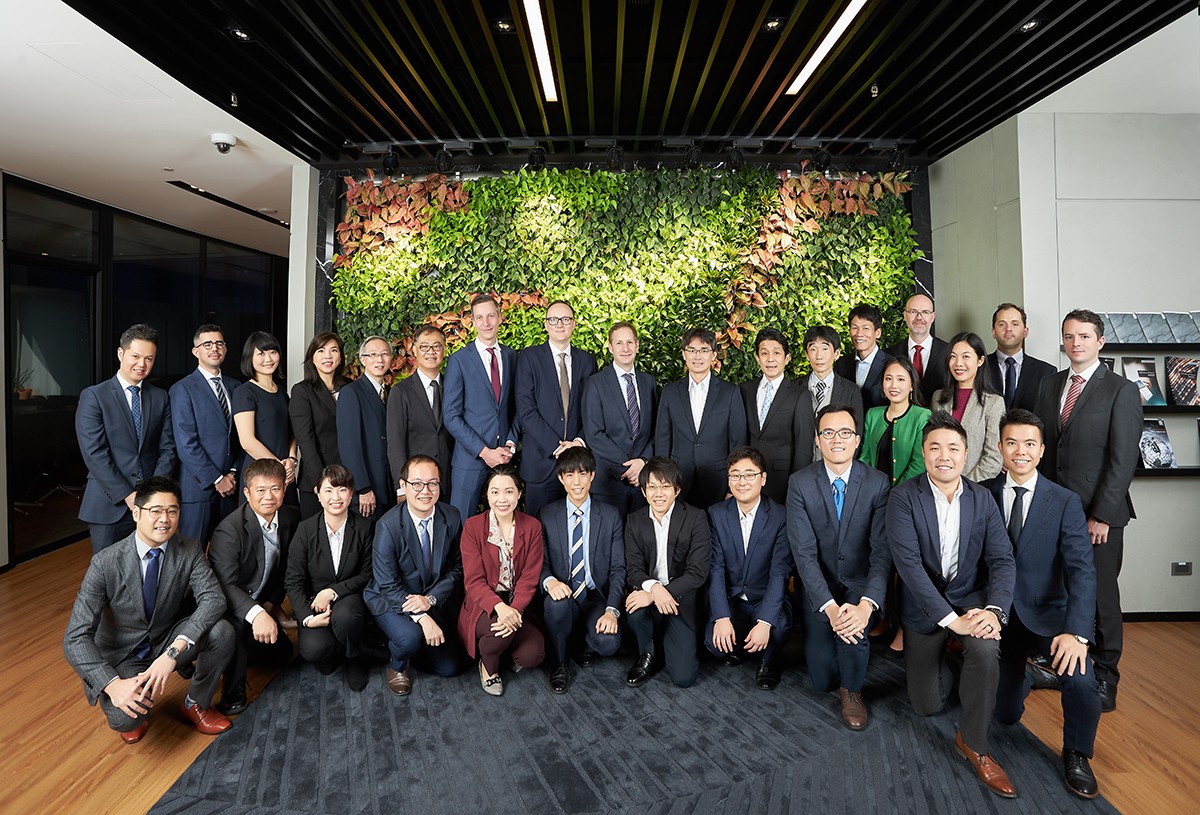 Macquarie's Green Investment Group (GIG) and EnBW Energie Baden-Württemberg AG (EnBW) have reached an agreement with JERA Co Inc (JERA), one of the largest public utilities in Japan, to join the partners in the development of the Formosa 3 offshore wind farm in Taiwan. JERA now holds 43.75% of the project, with both GIG (31.25%) and EnBW (25%) retaining material stakes and remaining committed to Formosa 3's ongoing development*.
Formosa 3 is an offshore wind project in Changhua county off the central-western coast of Taiwan. It's comprised of three separate sites, with a total potential capacity of 2GW. GIG and EnBW have been developing the project to date and intend to pursue capacity in Taiwan's next round of grid allocations, expected in 2020. Formosa 3 achieved its Environmental Impact Assessment approval in 2018.
JERA's entry into Formosa 3 further extends its productive relationship with GIG formed in Taiwan through their partnerships on the Formosa 1 and Formosa 2 offshore wind projects. Both projects have successfully reached major milestones recently, with the completion of Formosa 1 - Taiwan's first commercial scale offshore wind farm - and the commencement of construction on Formosa 2.
Together, JERA, GIG and EnBW are committed to building a partnership that will develop Formosa 3 according to international best practices whilst supporting effective localisation and further advancing Taiwan's green energy ambitions.
Each partner brings a complementary set of strengths to the project: GIG is a world-leading investor and developer of green infrastructure assets with significant experience in Taiwan; EnBW is a highly experienced global developer and operator of offshore wind assets; while JERA, one of the largest public utilities in Japan, brings a long history of activity in Taiwan and significant experience in developing power generation assets across the globe.
Mark Dooley, Global Head of Green Investment Group said: "GIG and JERA have established a strong and successful relationship in Taiwan's offshore wind market, and we're delighted to further deepen that partnership through Formosa 3. Partnership working is key to GIG's development approach, bringing together international and local expertise to support local economies and create world class developments. Taiwan is fast becoming Asia's foremost offshore wind market, and we're extremely proud that our Taipei-based team are playing a key role in Taiwan's green energy transition."
Dirk Güsewell, Head of Generation Portfolio Development at EnBW said: "EnBW is looking forward to JERA joining us in the Formosa 3 project. We are convinced that Formosa 3 will benefit from JERA's local expertise and experience as project partner of Formosa 1 and 2. EnBW has more than 10 years' experience in offshore wind energy, being a pioneer and driving force in Germany. Together with our partners, we aim to develop Taiwan's largest offshore wind farm. Taiwan is currently the lead market in Asia Pacific, and we are very honoured to support Taiwan's Energy Transition process and the local supply chain to become competitive in the region."
Satoshi Yajima, Executive Officer of JERA's Business Development Department said, "We are flattered to deepen our relationship with Macquarie's Green Investment Group following Formosa 1 and 2 offshore wind projects, and newly with EnBW through the participation in Formosa 3 project. In line with JERA's vision of becoming a global leader in LNG and renewables toward 2025, we are extremely honoured to be contributing to the sustainable growth of Taiwanese power market by utilizing our long track record in power sector all over the world.
About JERA
Established in 2015, JERA is an equal joint venture of two major Japanese electric companies, TEPCO Fuel & Power Incorporated and Chubu Electric Power Company. JERA is an energy company with global reach that has strength in the entire energy supply chain, from participation in LNG and other fuel resource projects and fuel procurement, through fuel transportation to power generation.
JERA's mission is to provide cutting edge solutions to the world's energy issues, by offering energy supply models established in Japan through JERA's global operations to other countries.
Toward 2025, JERA's energy solutions focus mainly on two businesses: the LNG value chain business and the large-scale renewable energy business centred on offshore wind power generation. These businesses are complementary; renewable energy with variable power generation output is complemented by flexible, clean LNG thermal power generation. With demand expected to grow globally, particularly in Asia, JERA aims to become a leader in these two businesses.
About Green Investment Group and Macquarie Group
Macquarie's Green Investment Group (GIG) is a specialist in green infrastructure principal investment, development, project delivery, and the management of portfolio assets, and related services. Its track record, expertise and capability make it a global leader in green investment, dedicated to supporting the growth of the global green economy.
The institution was initially launched by the UK Government in 2012 as the Green Investment Bank (GIB) - the first institution of its type in the world. It was purchased by Macquarie in 2017 and combined with Macquarie Capital's renewables team to create one of the world's largest teams of specialist green investors. Now operating as Macquarie's Green Investment Group, the platform has more than 400 staff working in over 15 countries across Europe, North America, Asia and Australia, combining international best practice from across Macquarie's activities.
Across the globe, GIG has supported 16 offshore wind projects, representing over 4.5 GW of operating capacity including almost 50% of the UK's offshore wind capacity in operations or under construction.
Macquarie Group Limited (Macquarie) is a diversified financial group providing clients with asset management and finance, banking, advisory and risk and capital solutions across debt, equity and commodities. Founded in 1969, Macquarie employs over 15,700 people globally. At 30 September 2019, Macquarie had assets under management of $A562.0 billion.
For more information, visit www.greeninvestmentgroup.com and www.macquarie.com.
About EnBW
EnBW Energie Baden-Württemberg AG (EnBW AG) is one of the largest energy supply companies in Germany and Europe. EnBW Group operates the entire value chain, from generation and trading, to renewable energies, grid operations and sales. EnBW is looking back at a history of over a century, a publicly owned company, with a workforce of over 22,000 employees.
In 2013, EnBW embarked on a radical reorganization, in response to the fundamental changes brought about by the German Energiewende. EnBW realigned the company under the motto: "Energy Transition. Safe. Hands on." Against the background of the phasing out of nuclear power and increasing decarbonization, EnBW is expanding renewable energies - primarily wind and hydropower - to make them one of the main pillars of EnBW's business. The first step in Offshore Wind was Baltic 1 in 2010, Germany's first commercial sized Offshore Wind Farm. Before the end of 2019, EnBW team also brought online two large Offshore Wind Farms in Germany, Hohe See and Albatros, the largest Offshore Wind Farm project to date with a joint capacity of 610MW.
In addition to its core market of Germany, EnBW is actively seeking opportunities to selectively add projects in currently developing and emerging growth markets around the world with ambitious expansion targets. EnBW has developed business units not only in Germany, but also in Northern Europe, France, Turkey, USA and Asia Pacific. In Asia Pacific, EnBW has its regional headquarter in Taipei and is a stakeholder in Formosa III project.
For more information, visit www.enbw.com and www.enbw.com.tw
About Formosa 3
Formosa 3 offshore wind project is located off Changhua county in the central-western coast of Taiwan. The project is currently in development and has already achieved EIA approvals. The total capacity of the wind farm is circa 2GW. JERA, GIG and EnBW are developing the project together with Swancor Renewable Energy as local partner. For more information, visit www.formosa3windpower.com/en.
Media enquiries
Macquarie
Ida Cheung
+852 3922 3615
ida.cheung@macquarie.com
Janet Jin
Tel: +852 3922 4772
Email: janet.jin@macquarie.com
JERA
Atsuo Sawaki
Tel:+81 80 2605 5406
Email: Atsuo.Sawaki@jera.co.jp
EnBW
Valerie Chang
Tel: +886 2 2778 5500 ext.200
Email: s.chang@enbw.com