Modern global energy strategies, whether they involve more extensive use of renewable energy such as wind power, hydroelectricity and solar power or incentives or deterrents for reducing conventional energy sources, are all intended to achieve one common goal: decarbonization – reducing the use of fossil fuels and minimizing damage to the environment.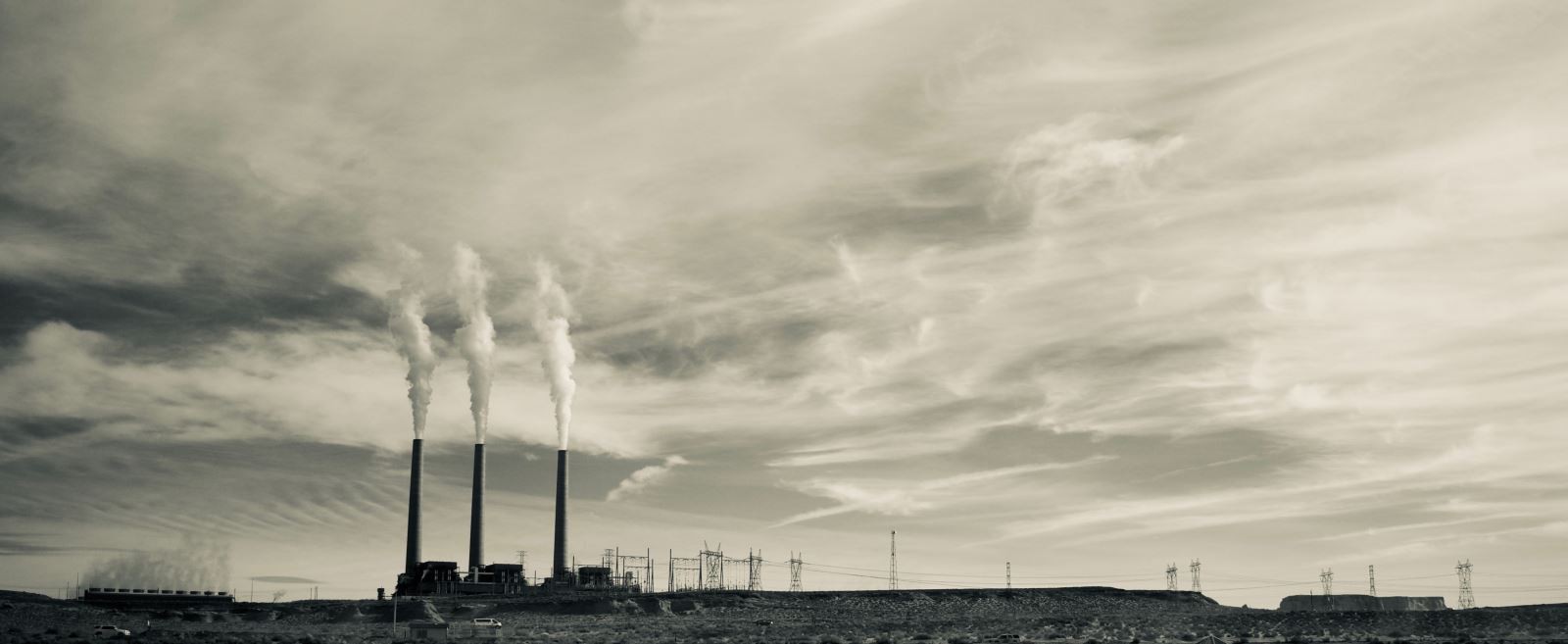 Source: Aditya Joshi. From: https://unsplash.com/photos/sfCugNOdUGc
An energy reform that takes decades and needs global participation
Decarbonization refers to the process of reducing gaseous carbon compounds released into the environment. These gases are released mainly from the combustion of fossil fuels such as coal and natural gas and are the major source of greenhouse emissions.


As industry has progressed, the demand for energy has increased, causing a greater volume of coal to be used for power generation, manufacturing and transportation. This process has released a high volume of greenhouse gas into the atmosphere and poses an extreme burden on the environment, resulting in weather phenomena, such as higher atmosphere and ocean temperatures, thinner snow, rising sea levels, snowstorms, droughts and heat waves.


The issue of carbon emission and its damage to the environment started gaining attention in the 1990s. In 1992, the UN passed the "United Nations Framework Convention on Climate Change" (UNFCCC) and began holding annual climate change conferences as a means to review the decarbonization progress of each nation. The "Kyoto Protocol" was signed in 1997 to maintain greenhouse gas at an appropriate level, while in the Paris Agreement of 2015 all participating nations specifically pledged to keep the rise of average global temperatures within 2°C compared to pre-industrial levels in order to prevent irreversible damage to the Earth.
Germany's three decarbonization actions: Climate Change Law, carbon pricing, and renewable energy
Germany was one of the first countries in the world to begin decarbonization. Between 1990 and 2017, Germany not only managed to reduce domestic CO2 emissions by 28% or 348 million tons, but also fulfilled its Kyoto Protocol reduction targets to perfection.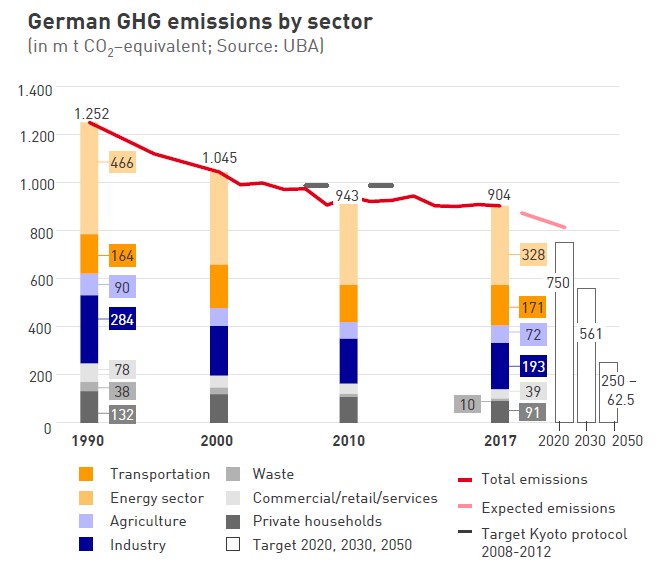 Germany GHG Emission Chart. Excerpted from EnBW Factbook 2018.
Germany's successful attempt at reducing carbon should be attributed to three government strategies:
"Climate Change Law": defining clear reduction targets and assessment measures
The German government has set carbon reduction targets in its laws over 10-year intervals. Meanwhile, the federal government has instructed local governments to devise locally customized reduction measures and adopt systematic approaches to decarbonization.
Carbon pricing: a user-pay deterrent
Carbon pricing has been recognized by many international organizations, government bodies and businesses as one of the most effective carbon reduction measures. Approximately 40 countries and more than 20 cities worldwide are currently levying carbon taxes as a means of reduction, or are planning to do so. The German government not only supports this idea, but also consistently recommends it to all G20 nations.
Renewable energy: eliminating dependence on coal
Germany has been persistent in the development of renewable energy as it aims to eliminate dependence on coal and natural gas. Between 2019 and 2020, Germany plans to increase the capacity of onshore wind power and solar power plants by 4GW each, and at the same time to expand the scale of offshore wind farms so that renewable energy accounts for more than 65% of the nation's total power capacity by 2030.
Meanwhile, the German government has been quite specific about its decarbonization and sustainability goals, such as the nationwide reduction of carbon emissions to 55% of their 1990 level by 2030, and then to 70% by 2040.
EnBW adopts balanced approach towards decarbonization
EnBW has outlined clear goals and strategies in response to Germany's energy transition and decarbonization efforts.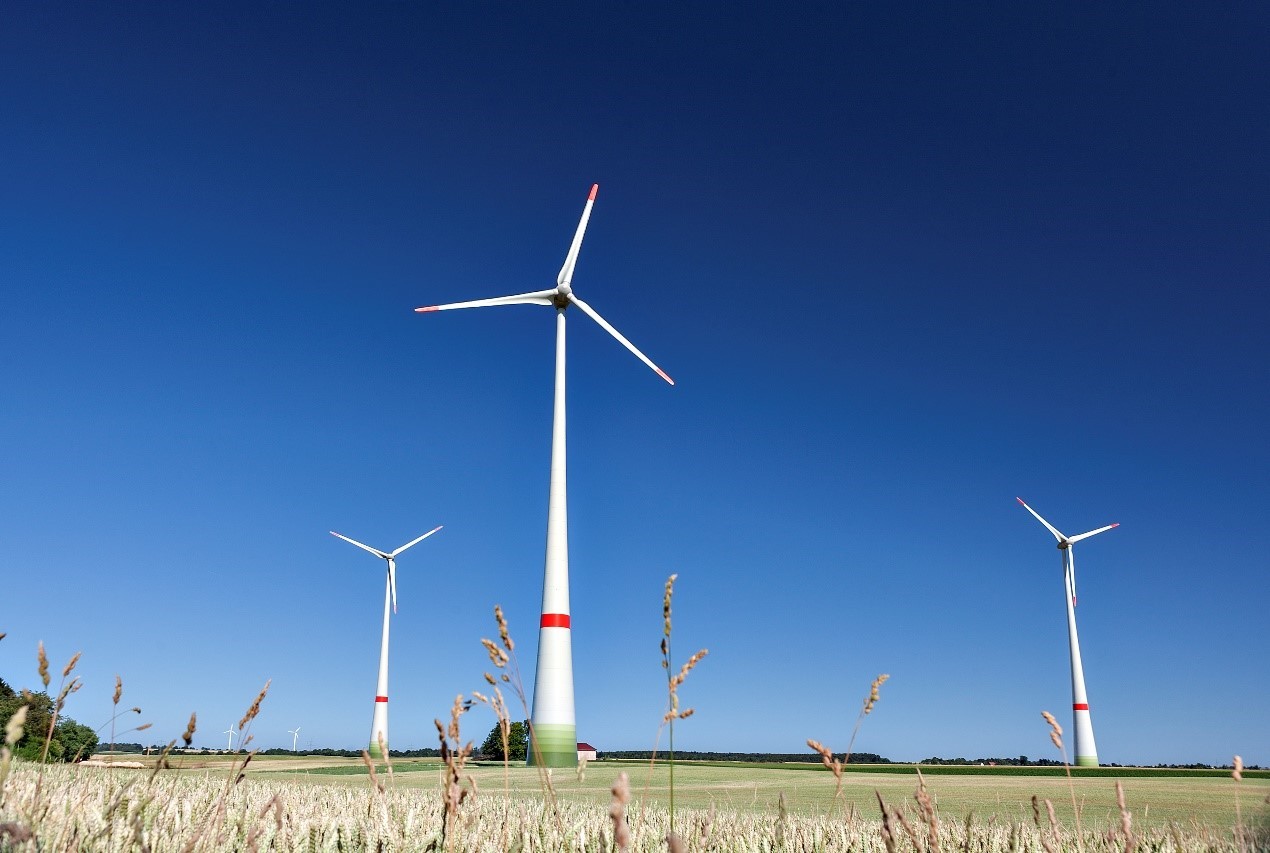 According to EnBW, one of the indicators that best reflects decarbonization performance is "carbon intensity", which measures the volume of CO2 emissions per unit of GDP. Such methods as raising domestic coal prices, energy taxes, and carbon emission fees are widely perceived as the most effective ways of reducing fossil fuel, and therefore carbon intensity.

In November 2018, EnBW issued a joint statement with several other companies including Ørsted, Siemens and E.ON recommending the EU Emission Trading System impose a carbon price floor on transportation and construction activities. Dr. Frank Mastiaux, CEO of EnBW, said: "Imposing a minimum carbon price would have a great effect on conventional, coal-based manufacturers, causing them to switch towards natural gas at a faster pace. Furthermore, it would stimulate investments into renewable energy and speed up expansion of the industry."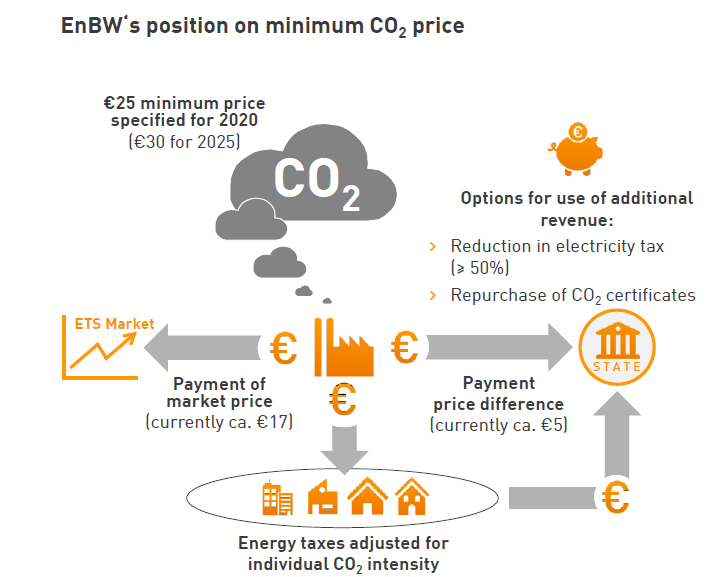 EnBW considers a minimum carbon price to be effective in reducing the use of fossil fuels while decreasing taxes imposed on other low-carbon energy sources. Excerpted from EnBW Factbook 2018.
In addition to advocating an increase in carbon pricing, EnBW is also committed to reducing CO2 emitted during power generation, including the renewal of outdated equipment at the Rheinhafen steam power plant with newer, more efficient RDK 8 modules. With respect to green energy development, EnBW plans to increase the capacity of its offshore and onshore wind power plants by 1.5GW and 2GW, respectively, by 2025. To overcome the relative instability of renewable energy sources, EnBW is actively exploring improvements to the energy infrastructure and constructing smart, reliable power grids to satisfy everyone's needs.

From 2015 to 2018, the Earth experienced the highest temperatures ever recorded in human history. Carbon emissions and the resulting climate changes and air pollution have snowballed to a point that demands an immediate response from everyone on Earth. In light of this reality, EnBW has set a goal to reduce the carbon intensity of its power generation by 15% to 20% (compared to 606g/kWh in 2015, the baseline year) by 2020. EnBW will continue taking pro-active steps toward preventing climate change and reducing carbon emissions.